Noise Cancelling Motorcycle Hearing Protection vs Passive Noise Cancelling
1.1 Noise Cancelling Motorcycle Hearing Protection VS Passive Noise Canceling
Kevin King inspired this article, and it is one that has and is causing a lot of confusion because of the marketing of Noise Canceling motorcycle hearing protection and noise-canceling products in general.
Here is his Question and I will answer this inline below for ease and full understanding.
Kevin:
While my motorcycle was in for routine 24K maintenance, I sat in the customer lounge perusing a BMW owner magazine.  In the magazine was a small advertisement from Big Ear Inc concerning "noise-canceling" in-ear product.  When I went to your website, the products you offered do not reference noise-canceling product features.  I watched the YouTube video, and I do not recall a reference to noise-cancellation.
Kevin, all our products are hearing protection first, from our basic earplugs, our filtered earplugs, and even our custom stereo earbuds are all Noise Canceling Motorcycle Hearing Protection.
1.2 Does BigEar sell an ACTIVE-noise cancellation in-ear product?
Big Ear does not sell an active noise cancellation hearing protection device because active noise canceling does not protect your hearing. It creates an anti frequency that eliminates some frequencies but has very little hearing protection in any device. 
We do not add more sound to try and reduce some frequencies. It does not work in the wind.
When you are dealing with a motorcycle and wind and road noise it is an extremely loud environment, (115-120+dB's),  and the frequencies are so intense and varying that no noise canceling can cancel the noise from this in the first place and the few frequencies that they could cancel still would not protect your hearing.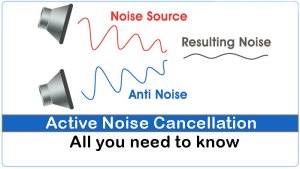 1.3 How to lower your dB
Motorcyclists want lowered decibels certainly – but more than anything we want low-frequency road noise cut out (equivalent to the Bose product).
On a motorcycle, we need to cancel as much of the wind and road noise that we can. Decibels are measured on an algorithmic scale not linear, so every 3 dB is double the sound pressure.
85dB is where hearing loss starts and is acclimated and nonreversible. So 85-88 dB is double the sound pressure, 88-91 just doubled that. 91 to 94 is double again, so you can see how your organs can cook and ear's bleed at 140+ dB.  So when you look at a Bose headset it is about 95dB in the airplane cabin, you put on the headset, and it reduces it about 25dB, and then you engage the noise-canceling feature. It did not reduce the dB level; it just canceled certain frequencies in an airplane, it's like a magic trick. it works. 
Use them at home or in the car they don't work the same as the frequencies are different. They do nothing about sound pressure reduction other than the seal from the earmuffs. So it's a great technology but does not work or has no use in wind noise on a motorcycle. 
I had a friend that fastened them to his head with a strap, and they did not work at all at road speed, and this is not what they were not designed for. 
I do get this question all the time because Bose is such a good marketing company.
1.3.1 Motorcycle Helmets and
hearing protection
Helmet manufacturers do a dismal job of aural protection in the helmet product they sell.  Helmet manufacturers could develop in-helmet earcups that have active noise-cancellation.  Instead, the helmet manufacturers pander glitzy paint jobs and flutes for ventilation and "style."  Us long-distance riders would pay good money for real active noise cancellation.  But since that does not exist, the next logical thing is in-ear molded products.
The best dB reduction helmet is 4dB and what you have learned is that 4dB removes at least 1 double of sound reduction, and there is mounting pressure to keep the class action lawsuits going as they represent them as hearing protection and they are not they are head protection and do not explain the limitations of hearing protection and allow hearing loss to occur while using the pretty helmet. Many helmets also cause massive extra noise and buffeting and noise. I deal with this all the time. When you do wear custom earplugs you get to hear other noises as the wind and road are reduced so now you hear the loudness of your helmet and windshield, mirrors, and all the wingtip vortices cause by racing through the wind.
Active noise canceling does not work; that is why they do not do it. If it worked, they would do it and charge you $3,000 for the new super-duper helmet.
Thus my last question would be:  is the noise cancellation referenced in your advertisements PASSIVE in nature, or ACTIVE in nature?
All our Noise Canceling Motorcycle Hearing Protection is Passive as this is all that works. We do have filtered hearing protection, but you really need to be careful and measure with a simple should level meter to see how loud it is the day your ridding. Are you in a headwind, side wind it all changes quickly and gets really loud fast?
As a suffer from Tinnitus, I do everything I can to protect my hearing from getting worse.
If you are using communication in your helmet or music, you must use a Noise Canceling Motorcycle Hearing Protection device that is earplugs first; then you can turn the sound down.
If you just try and jack the sound up over the wind, you are just accelerating the hearing loss situation.
Kevin, thank you for the thought and questions you have. If we can help further let us know.
Notice
: Undefined index: wrapShares in
/home/bigearin/public_html/wp-content/plugins/mashsharer/includes/class-mashsb-shared-posts-widget.php
on line
99
Most Shared Posts
Big Ear Account Best Firefighters Hearing Protection For years we have all known that the only heari

0 Shares