Crystal LH1 Lightweight Pilot Aviation Headset Custom Adapters
Communication in the field of aviation is highly critical. The success and safety of a flight heavily relies on good connection with crews on other aircraft and ground crew. There are two main options when it comes to aviation communication: around-ear and in-ear configurations.
Around-ear configurations are intended for louder environments. These enclose the entire ear and block ambient noise commonly through noise-cancelling technology. A big advantage is that these provide superior sound quality, especially in delivering bass tones. However, these can be quite uncomfortable after an extended period of time due to build-up of sweat and increased pressure on the ears and head. Moreover, the hefty weight of some sets can be bothersome.
In-ear sets, on the other hand, are recommended for moderately noisy surroundings, such as the inside of a pressurized aircraft. These create a seal inside the ear canal which blocks sounds from entering through the process of noise isolation. Some sets offer noise cancellation as well. The sound quality is good but rather inferior than around-ear sets. In general, these are lightweight and more comfortable. Hence, these are more suitable for longer usage.
Both of the configurations have their own advantages and disadvantages. Hence, selection depends on intended use.
When it comes to in-ear configurations, the Crystal LH1 Lightweight Headset is definitely a good choice.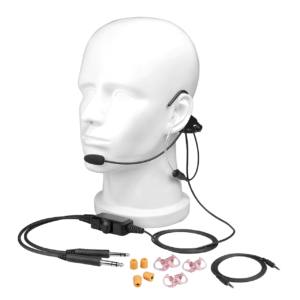 1.1 An Innovation
From its parent company Crystal Mic, the world's best designed aviation microphone attachment, comes the Crystal Air headset. The Crystal LH1 is a lightweight headset which uses noise isolation technology to block noise. Comply™ foam ear tips are used to create a good seal inside the ear canal. Noise cancellation is therefore not necessary.
Speaker type: Balanced armature speaker
Impedance/maximum volume: 25 ohm/ 128dB
Sensitivity: 109 +/-3dB @ 1kHz
Microphone Type: Electret
1.1.1 Features:
Dual auxiliary 3.5-mm jack for phone or music device
Robust microphone boom that stays in place when set
Acoustic ear tubes with 3 types of standard Comply™ foam ear tips
Single volume control
Stereo/Mono switch
Hard carrying case
1.1.2 Comfort on a whole new level
Although the Crystal LH1 Lightweight Headset is an excellent equipment, it can be upgraded to achieve another level of comfort and fit. After many requests, we were able to make custom adapters to fit this amazing headset.
Despite its less expensive tag price, in contrast to brands such as Bose® and Clarity Aloft®,  it shares the same issue regarding fit, comfort and feel. Undeniably, the Comply™ foam tips offer topnotch sound isolation, in-retention and comfort; however, they are still completely different from custom tips.
With custom adapters, you can make your Crystal LH1 unit personalized to fit your ears perfectly. At Big Ear, we understand that each human ear is different. As the aviation industry requires usage of headsets for extended periods of time, comfort and fit of these headsets should be a top priority.
If you are interested in having unmatched listening experience, then custom adapters is the best way to go. To begin your custom experience, all we need are your ear impressions.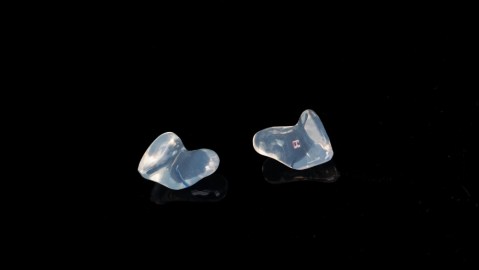 1.2 Crystal LH1 Lightweight Pilot Aviation Headset Custom Adapters
Notice
: Undefined index: wrapShares in
/home/bigearin/public_html/wp-content/plugins/mashsharer/includes/class-mashsb-shared-posts-widget.php
on line
99